Danielle is back with another mouth watering recipe! Learn more about her below, after you check out this amazing recipe, of course!

When my husband was in the NFL I used to bake all kinds of things for their offensive meetings. These cookies were by far the most popular and I still get requests to this day from the guys for them... In fact, that's where this batch went to! They're really easy to make, although they do take a bit of time because there's three different phases to them and they have to set between each one, but they're well worth the effort. The creamy and sweet peanut butter filling gets sandwiched in between two crunchy peanut butter cookies and then the whole thing gets dipped and drizzled in chocolate.
Chocolate Peanut Butter Sandwich Cookies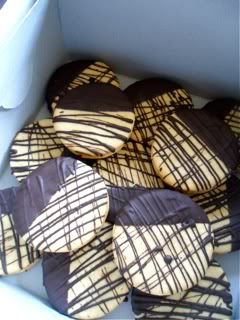 1 1/2 cups all purpose flour
1 stick unsalted butter (at room temperature)
1 1/4 cup creamy peanut butter (divided)
1 large egg (at room temperature)
1/4 cup confectioner's sugar
8 oz. semisweet Baker's Chocolate
Any time I am baking I like to get out every single ingredient I'm going to need for the recipe, no matter how many or how few there are. That way not only am I ready to go once I start, I know I have everything that I'm going to need. There's nothing worse than being right in the middle of a recipe and realizing you're missing an ingredient.
Preheat oven to 350° and line two baking sheets with Silpat mats or parchment paper. In a small bowl, whisk together the flour, baking soda and salt. In the bowl of an electric mixer beat the butter, 1/2 cup of the peanut butter, the sugar and the egg. Slowly add in the flour mixture until the cookie dough forms.
Scoop out 1 tablespoon size balls of the dough and put about 9 on each sheet. If you don't care if the cookies look perfect, then just flatten the dough balls a little with your palm before baking. If you want smooth cookies that are more uniform in size then press the dough balls into a 2 inch ring mold. Bake the cookies for about 10 minutes until lightly golden brown, let cool on a wire rack.
While the cookies are cooling, make the filling by mixing the confectioner's sugar with the remaining 3/4 cup of peanut butter. I put the filling in a piping bag with a star tip, but again if you don't care what they look like you can just fill them using a spatula. I like to take the cookies, pair them up and lay the pairs bottom side up on a baking sheet. Then I put the filling on one cookie and press the other one over it making it a sandwich.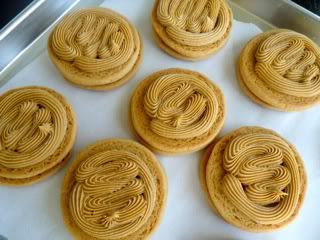 Stick the baking sheet in the fridge to help the filling set up a bit (otherwise the top cookie will just slide off of the bottom one). While those are chilling, cut up the chocolate and set up a double boiler. You can make your own double boiler by filling a medium saucepan with about 2 inches of water and setting a heatproof bowl on top of it, then put on medium high heat. Put the chocolate in the double boiler and melt, stirring constantly until smooth. Dip about a quarter of each "sandwich" in the melted chocolate, let the excess drip off and set on a parchment paper lined baking sheet. Use the rest of the chocolate to drizzle over the entire cookie. Let set in the fridge for at least an hour before serving.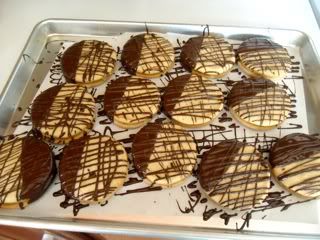 Let's find out more about Danielle(a beautiful gal, who is an old pal of mine from high school):
I'm Danielle from

Buffalo, NY

. I live in

Hamburg

with my husband Christian and two miniature pinschers, Weezy and Sebastian. I started baking when I was young, mostly with my grandmother around the holidays. My love and skills for it grew as I got older, turning into a full-time passion when my husband was in the NFL. I started baking cookies for the team for Christmas, which soon turned in to all year round requests for treats! In the last couple years I've become obsessed with all things French cuisine an have started cooking much more, but baking will always be where my heart is!