This is the first of two guest posts today for Recipe Wednesday. It was written by an old friend of mine, the lovely Danielle, who wows me pretty much on a daily basis with her creations via Facebook photos.
BRIE EN CROUTE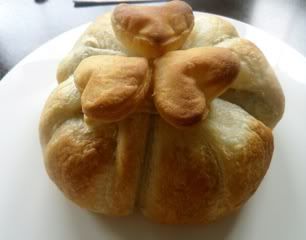 Don't be intimidated by the fancy name, it literally just means cheese in a crust! What I love about it is that it's super simple yet it looks impressive and most importantly, you can make it ahead of time! It's perfect if you need to bring something to a get together, or if you're hosting a dinner party because you can put it all together earlier in the day then just throw it in the oven just before serving it.

* 1 sheet frozen puff pastry
* 2 tbsp unsalted butter (divided)
* 1/2 cup walnuts
* 1/4 tsp ground cinnamon
* 1 (8 ounce) wheel of brie
* 1/4 cup light brown sugar
* kitchen twine (optional)
* crackers, for serving


Defrost your puff pastry for about a half hour before you begin.

Preheat your oven to 375˚ F.

Unfold the puff pastry and lay it on a flat surface, then put the brie round in the center. Melt 1 tbsp of the butter in a small saucepan over medium heat. Add the walnuts and saute until they turn a golden brown, about 5 minutes. Add in the cinnamon and stir until the nuts are coated well. Put the walnut mixture right on top of the brie and then sprinkle the brown sugar on top of that. Start pulling the puff pastry up over the whole thing, until all the cheese and filling are encased.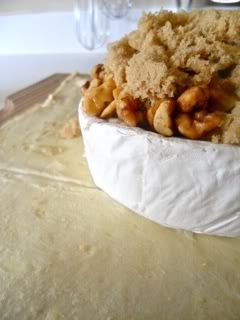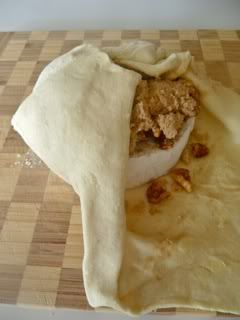 You can tie the whole thing up with kitchen twine (just like a present) to keep anything from leaking out, though if you wrap it tight enough you don't have to. Melt the other tbsp of butter and brush it over the entire thing. This will help create a golden brown crust when you bake it. If you don't have butter, you can also use a beaten egg... I've even used milk, they all work just fine. I made this for my anniversary so I used extra puff pastry and cut out heart shapes which I put on top for decoration. You can make it without anything extra on top or you can get creative and try some different things.

Bake in the oven for 20 minutes until the pastry is golden brown. Serve with crackers.