Danielle is back with some amazing looking cupcakes this week!
These cupcakes are a ridiculous indulgence and are every bit as heavenly as they look! A chocolate cupcake filled with a gooey chocolate and cognac ganache, topped with peanut butter buttercream icing and peanut butter cups... it doesn't get any better. There are two secrets to the chocolate cupcakes... one is that the batter is mixed by hand and not with a mixer, and the second is that it has melted baker's chocolate combined with the standard cocoa powder to make it extra yummy.
For the Cupcakes:
2/3 cups all purpose flour
2 1/2 tbsp unsweetened cocoa powder
3/4 tsp baking powder
1/4 tsp salt
3 oz. semi sweet Baker's chocolate, chopped
11 tbsp unsalted butter, cut into pieces
3/4 cup plus 2 tbsp sugar
3 eggs, at room temperature
1 tsp pure vanilla extract


For the Ganache:
4 oz semi sweet Baker's chocolate, chopped
1/3 cup heavy cream
1 tbsp unsalted butter, room temperature
2 tsp cognac (you can certainly leave this out if you don't want to include alcohol)


For the Icing:
1/3 cup solid vegetable shortening (crisco)
1/3 cup unsalted butter
3/4 cup creamy peanut butter
1 tsp pure vanilla extract
4 cups sifted confectioners sugar
4-6 tbsp milk
Assorted decorations: peanut butter cups, mini cups, chocolate chips, etc.
To bake the cupcakes, preheat oven to 350 degrees and line a standard muffin pan with 12 paper or foil liners. In a small bowl, whisk together the flour, cocoa, baking powder and salt. Place the chocolate and butter in a large heatproof bowl and set it over but not touching simmering water in a small saucepan. Stir frequently until completely melted and smooth, about 5 minutes. Remove the bowl from the saucepan and allow the mixture to cool to room temperature. Stir the sugar into the chocolate mixture using a spatula until combined. Stir in the eggs, one at a time, and beat after each addition until combined. Add in vanilla and gently fold in the flour mixture just until no traces of flour remain. It's very important you follow these steps exactly and DO NOT over mix or these cupcakes will turn out very dry and crumbly.


Divide batter evenly among the liners, filling about 3/4 the way full. Bake until a toothpick inserted in the middle comes out with only a few moist crumbs attached, about 22-24 minutes. Cool in pan on rack for 5 minutes then take cupcakes out and let cool completely for an hour.


Using a paring knife, cut a small round hole in the middle of the cupcake, and pull out the "cylinder" of cupcake. Trim that cylinder to about a half inch... this will be used to "cork" the cupcakes back up once we fill them. Use your finger to press down lightly inside the hole in the cupcake to make a cavity to fill with the ganache.


To make the ganache filling, place the chocolate in a small heatproof bowl and set aside. Heat the cream in a small saucepan until simmering (don't let it boil). Pour over the chocolate, let it sit for about a minute and then stir until smooth. Add in the vanilla and cognac (is using) and stir until smooth. Wait a few minutes for the ganache to start to cool and set up before filling the cupcakes. Spoon the ganache into the cupcakes and then top with the cupcake "corks".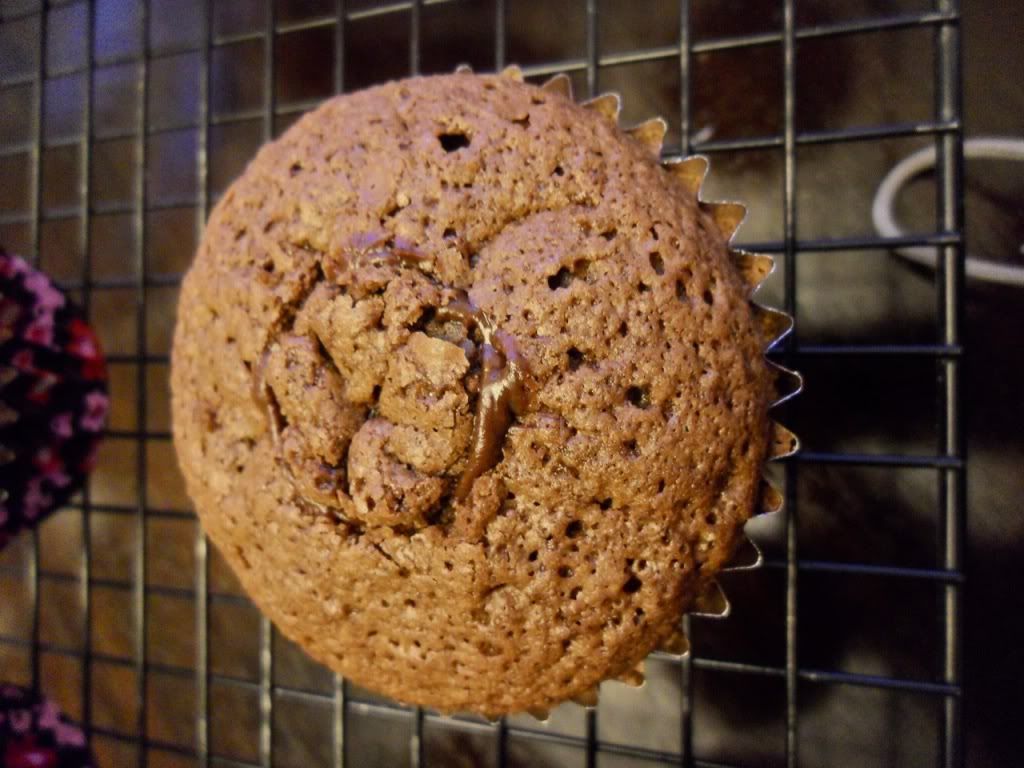 Make the frosting by creaming the shortening and butter in an electric mixer . Add peanut butter and vanilla. Gradually add the confectioner's sugar, one cup at a time at low speed. When all the sugar is incorporated, the icing will appear very dry. Add the milk, one tablespoon at a time until the frosting reaches the right consistency and is light and fluffy. Everyone ices cupcakes differently... but I use a piping bag and a 2C wilton tip. I usually alternate decorating half the cupcakes with regular sized peanut butter cups that have been cut in half (freeze them before cutting them to get clean cuts), and the other half are decorated with mini cups and mini chocolate chips.
Once cupcakes are finished, store them in an airtight container in the refrigerator to allow the ganache filling to set up fully. Let come up to room temperature for about a half hour before eating. The ganache inside will be gooey but not runny.