Annie is back with something sweet this week:)
Double Stuffed French Toast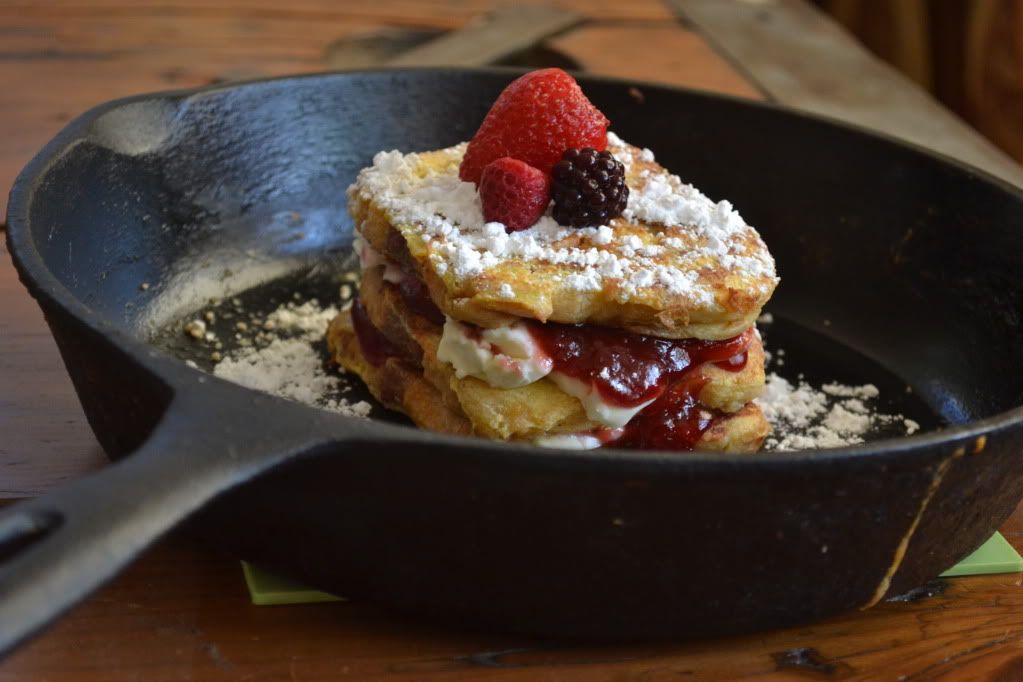 The first time I had stuffed french toast I was on my honeymoon in Stowe, Vermont. We stayed at a B&B right outside of town that was amazing. Our first breakfast there was stuffed french toast with real Vermont maple syrup. The combination melted in your mouth and we were hooked. Now almost every Sunday we make stuffed french toast. Its addicting and you want to make it for your friends and family. We even make it for dinner sometimes. It reminds me of peanut butter and jelly, a staple in my childhood and something I ate almost everyday because it tasted so good. I think something that makes this even more special is if you have homemade jam or jelly and real maple syrup. So if your looking for a homemade meal that will put a smile on your face I suggest Double Stuffed French Toast!
This makes one serving
Ingredients:
Three slices of cinnamon swirl bread
2 eggs
1 tbspn butter
4 tbspn cream cheese
2 tbspn jam or jelly (any flavor, I love useing homemade raspberry jam)
1 tbspn powder sugar
Some fresh fruit to garnish with
2 tbspn maple syrup heated up
Turn oven on to 400 degrees.
Melt butter in large frying pan on medium heat over stovetop.
Scramble two eggs in bowl till it looks the same throughout (this is key for the egg to stick to the bread).
Dip slice of bread on each side to completely cover it.
Drop bread onto frying pan. Dip other slices of bread and drop onto frying pan.
When the bottom side is dark golden brown flip bread.
When both sides are dark golden brown remove from heat onto plate.
Put 2 tbspn cream cheese and 1 tbspn jam/jelly onto slice of bread then top with another slice.
Cover second slice with cream cheese and jam/jelly and put third slice on top.
Transfer the french toast to a cookie sheet and place in oven at 400 degrees for 5 to 10 minutes.
Remove from oven, place on plate, sprinkle on powder sugar and fresh fruit.
Heat up maple syrup in glass bowl in microwave and pour over french toast.
Enjoy!