I have been selling vintage for a few years now and as anyone who has ever worked in the retail business can tell you, you will encounter quite a variety of customers from the kooky to the just plain rude. I know a lot of people who want to buy vintage and become wonderfully, kind, normal customers, but are scared as they are first timers, so here is a short list of things that you should keep in mind when buying from a vintage seller. Check back next week for more tips!
1. Vintage Runs Small. Seriously small.
You wouldn't believe the difference in what a size ten was back in the 50s as compared to today. Have you ever heard someone say that Marilyn Monroe wore a size 16? Yeah, it may be true, but a 1950s size 16 is probably around a size 6 by today's standards. Not quite the same.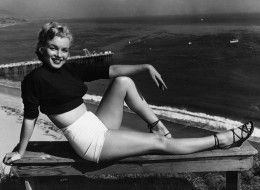 Oh, to be a size 16.
In shoes it is the same story. I wear a 7.5 and one day found the most AMAZING shoes that I saw from across the thrift store. I ran to them as the sound of angels playing harps chimed in the background. I saw 7.5 printed on the inside and I couldn't believe my eyes. And then...I couldn't even jam my fat feet into them.
The shoes that launched a thousand tears...in my heart.




My feet aren't really fat, but buying vintage may make you feel a bit saddened over wearing a size you never thought possible. It is the opposite of today's vanity sizing. You have to get over the tag size and just know that you are rocking some amazing clothing. It was probably made better than anything you could find on the racks in a store that tells you you're a size 2 when you are an 8 anywhere else.
2. Vintage Runs Small...Part 2
This is a point to take seriously. Always, always, always measure a similar clothing item in your closet before you blindly buy a vintage piece in a size that you think is correct. Even if you know that vintage runs small and you generally wear a size or two away, take the time to measure. As a seller, I can't tell you the number of times people have messaged me saying something doesn't fit, even with disclaimers in both of my online stores concerning checking measurements as I do not accept returns for items that don't fit. It takes time for sellers to accurately measure everything, so don't let that effort go to waste. Utilize it. You will be happy when something you wanted so badly arrives and fits as if it had always been yours.
3. Vintage Runs Small...Part 3
Repetitious right? This is more about questions I get all of the time and goes along with measuring an item of clothing. If an item says "would best fit a small" and you wear a large, please don't send the seller a question asking if it will fit you. We are not all knowing when it comes to sizing, although I am sure a few sellers are close. I can generally tell what a medium is in clothing, because that is what I wear, just as I can usually tell if a shoe marked 7.5 is actually a 7.5. That being said, I really couldn't tell you if the extra small is more like like a small or vice versa. Use the measurements provided. Your idea of a large may be different from mine, the same way Abercrombie's idea is different from Banana Republic's.
4. We are human.
A bullet not about sizing. How novel! In the flaws section or condition of an item, many sellers list any obvious flaws such as stains or sticky zippers. These flaws are quite obvious. I know this may sound crazy, but it is possible that a seller, maybe, just maybe, could overlook a flaw on a shirt and not list it. If this happens, don't get angry. Don't assume the seller is trying to pull one over on you. Don't rush to the feedback system and throw down some heavy words. Kindly send the seller a note and describe the flaw they did not list. If you have a camera readily available, you could even send a pic. A good seller will offer some compensation. I say some, because a tiny dot stain that will likely come off via dry cleaning does not warrant a full refund, so don't get greedy. If the seller doesn't offer any type of refund, then you can consider a neutral or negative, but don't quickly write something without thinking about the situation, which brings us to the next topic.
5. Quick negatives.
As stated above, if you EVER have a problem with your order, don't go to feedback before contacting the seller. It is quite rude to that actually. In my Etsy experience, I have I had one neutral feedback and one negative, both times without any contact from the buyer beforehand. The neutral says nothing in the comments, which should be another section, but I will just say it here: do not leave a neutral/negative on Etsy without stating why. It is aggravating to the seller and to the people who want to check out ratings prior to purchase. A blind negative doesn't help anyone.
Don't be this buyer.
In the other instance, a buyer rudely left me a negative for a pair of shoes they said were narrow and not listed as such. All measurements were listed and the shoes were 3.5 inches in width. That is not narrow. That is a buyer who doesn't really know what size shoe they wear.
Most sellers strive for 100% perfection. If you think about it, I could receive 100 ratings and 99 people could be elated with their experience, while one person who feels particularly upset over something that may not even be my fault can leave a negative and even though it is ONE person that 99% looks so much less impressive than 100%. Can you imagine if you lived every aspect of life that way? No, because it is not realistic. My rule of thumb when buying is that you shouldn't be afraid to purchase anything from a seller with 97% or better in feedback. If 97 people were happy and 3 weren't, odds are really in your favor.
Thanks for reading and if you sell vintage, feel free to add some tips in the comment section below. A second list will be posted next week!