In case you didn't know, October is Breast Cancer Awareness month. There are a lot of amazing events going on both in local areas and on a national basis, as well as places that are around at all times to offer support. General Mills is a company that is doing great things with breast cancer awareness.
Check out
PinkTogether.com
, where you can share stories about how breast cancer has affected your life and you can also help vote on $1 Millon of General Mills's donation will end up. It is a great cause, so be sure to like the page. Pink Together began with the belief that one person's story is another person's hope. Today, it's a place where breast cancer survivors, patients, family members, and supporters can connect to each other to share guidance, hope and maybe, one day, a cure.

I received an awesome gift pack thanks to General Mills and My Blog Spark. Even better news? You can win the same package!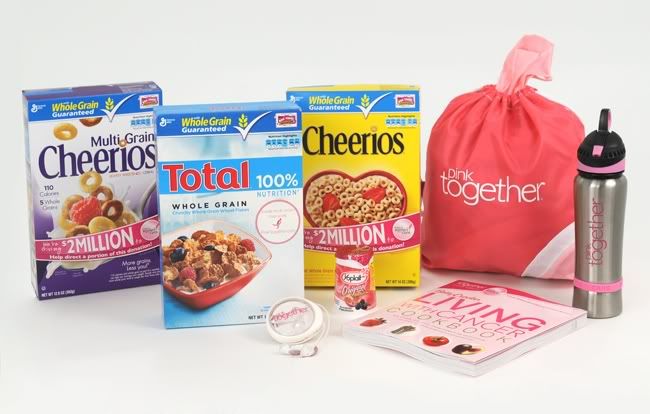 It includes the following items:
A 16 oz. box of Total cereal
VIP coupons valid for one box of Cheerios and Multigrain Cheerios cereal and one cup of Yoplait yogurt
Betty Crocker Living with Cancer Cookbook Pink Together Edition, which includes a collection of more than 150 delicious recipes with complete nutrition information and a 32-page Pink Together Survivor Ambassador bonus section that shares inspirational personal stories of survival as well as recipes
Water bottle and removable silicone awareness bracelet
Drawstring sport backpack
Rhinestone ear buds
How to enter:
Leave a comment below with a story about how breast cancer has affected your life or someone you know.
Extra entries(leave an extra comment for each):
Like the PinkTogether page and leave a comment saying that you did.
Vote where you want the donation money to go and leave a comment saying where you chose.
Tweet the following(up to three times a day): Win a Pink Together Prize Pack via BBV http://bit.ly/nW9dyR #MyBlogSpark
This giveaway will end on October 28th at midnight Eastern. It is open to residents of the US.
More information can be found here:
Disclosure: The Pink Together prize pack, information and coupons have been provided free of charge by General Mills through MyBlogSpark.